Turning pale at Hi-Fi 2000
To meet the growing trend towards paler furniture, Beauhorn introduced the Virtuoso speakers in an eye-catching 'ivory and ebony' livery at London's Hi-Fi Show 2000, 21-24 September, 2000.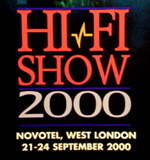 The beautiful new maple veneered cabinets cost the same as the current cherry finished ones – 3550/4835 pre-tax.
Does anyone have pictures of these models to upload?