The Obligato
This page's content © 2000 Thomas Transducers, hosted now for informational purposes only.
Obligato SET Amplifier
Our Obligato amplifier is designed to complement very high efficiency loudspeakers like our Virtuoso range. As a result it features a very low residual noise level and so gives no audible hum from the speakers. This, it has to said, is true of very, very few amplifiers – including single-ended triodes.
Care has been taken to avoid the evil of capacitors in the signal path and the use of feedback. The Obligato is direct coupled, uses choke input filtering and is hard-wired with silvered copper wire in ptfe insulation. It has the very high resolution needed to match the transient response of our speakers.
A single-ended class A stereo power amplifier, the Obligato uses EL34 output valves in triode mode and gives 7 W per channel, plenty of headroom for unrestrained dynamics. With the Virtuosos it gives a stereo image of real depth and resolution. Together, they deliver the relaxed and involving natural sound which easily conveys the emotion of the music.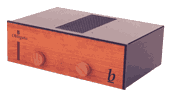 The front panel is finished with cherry veneer and features control knobs turned from solid cherry wood, so matching the speakers visually as well as sonically. The amplifier is provided with a volume control, so that it is not necessary to include a pre-amplifier in the system (less equals more, remember), although a high-quality switch unit will be required if more than one source is used.
Cognicenti will recognise that the name obligato is aptly derived from the musical term obbligato: "a musical accompaniment that is itself an essential part of the composition". (The missing 'b' is on the corner of the facia, of course).
Weight: 14.5 Kg (32 lb)
Width: 41 cm (16 in.)
Depth: 31.5 cm (12.5 in.)
Height:15 cm (6 in.)
UK price (before VAT): £1256 UK price (including VAT): £1476
The Combination
The Virtuosos and the Obligato together make an outstanding combination, where the listener can compare musical performances and recording values with utter clarity.
Read David Wright's article Of Horn Loudspeakers and Single-Ended amplifiers to understand just why they go so very well together.